Back to Investigations index page
Investigation of Newham Classic course length
Newham Classic 10k run on 15 April 2012:
Certificate of Course Accuracy: 12/138
Measured by: Clive Hopkins 5 April 2012
Distance: 10 km
Notification of Potential Problem: Email from Power of 10 at 23:53 on 15/4/12 reporting numerous unexpectedly fast times, and providing link to discussion on Runners World Forum
Investigation: at least ten runners GPS tracks were found uploaded to connect.garmin.com. These showed that the runners turned aprroximately 187 mteres early as shown in this sketch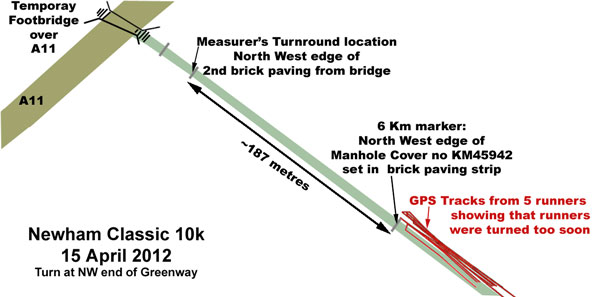 Action: This information was emailed to the race director with an initial version of the above diagram at 11.40 on 16 April 2012.
Result: At 20:02 on 16 April a copy of an email to be sent to all runners was received from the race director. This included the following,
The Newham Classic 10K run route is at all times measured by a UKA Grade I route measurer who again measured the route on this race accurately and is blameless and followed with a valid certificate.

Following your feedback we promptly initiated the process to carry out the checks on the route. We spoke to number of runners, volunteers, police and marshals about the subject. Unfortunately we found out that the distance covered by the runners was 9.60km. This occurred due to the misplacement of the turnaround point cones on the greenway part of the route just after the 6km mark.

We sincerely apologies to all the runners for this unfortunate problem as we recognise all the hard work and training in preparing for such an event.
Conclulsion: Turn round wrongly set up. Certificate of course accuracy for this race date revoked.
INVESTIGATION REPORT BY: M.Sandford, Measurement Secretary for the South of England. 16 April 2012, 22.00.