Back to Investigations index page
Investigation of Hampton Court Half Marathon course length
Hampton Court half Marathon 10k run on 8 April 2012:
Certificate of Course Accuracy: 14/018
Measured by: Hugh Jones 28 Jan 2014
Distance: Half Marathon
Notification of Potential Problem: Email asking for map of course & reporting 12.7 miles run.
Investigation: About 20 Garmin recorded distances were viewed by myself at GarminConnect; all reporting an underdistance course. Several traces selected at random were inspected and all showed a short cut taken at about 1.6 miles removing abput 700m from the course.
Action and Result: Race website was viewed, It reported that due to a mashalling error a short course was run.
Here is the relevant part of the measurer's course map: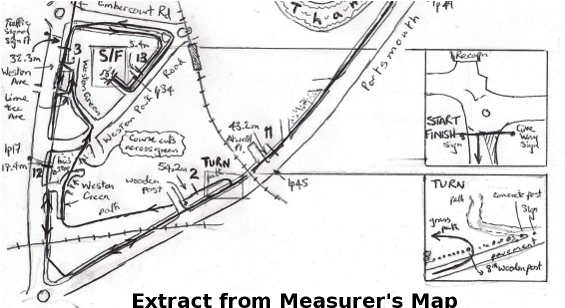 Here the short cut (in red) is shown immediately after passing under the first railway bridge, compared to the correct turn round point near the second railway bridge (yellow and black route) :
Here is a street view of the correct truning point after the 8th wooden post :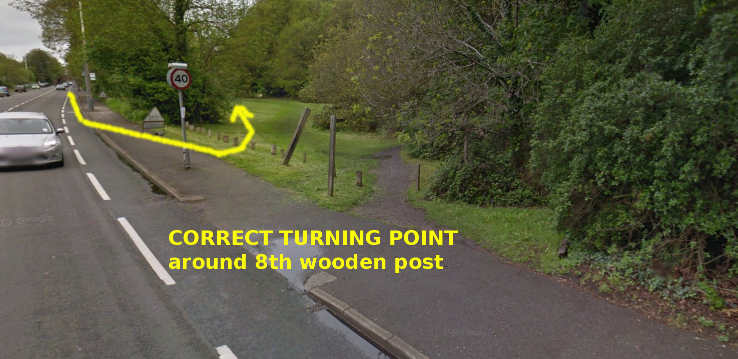 Here is the shortcut shown by the runner's GPS tracks:
Conclusion: Measured course not followed. Course directors must ensure that all shortcuts are barriered off or marshalled to prevent short cuts. Marshalls must be shown the correct route by the race director to avoid marshalling mistakes.
INVESTIGATION REPORT BY: M.Sandford South of England Measurement Secetary 25 Feb 2014